About The Winery
Our tasting room and winery offer many different, exciting and fun things to do for a couple of hours or even just 15 minutes. Check out the great and different array of wines on the winery tab above like our organic dry Strawberry and Blackberry. We are conveniently located 30 minutes north of Philadelphia.
Bring your group, your couple and even just yourself for a great time sipping and trying over 25 different wines. There is no reservation needed (larger parties please call ahead) and samples are only $1 each, or $5 each for Reserve Cabernet Sauvignon and Dandelion. So, bring your family out to join our family for a rewarding and memorable experience.
ToiTime Feature Men's Journal Feature I Love Skippack Video
Meet Christopher Boyd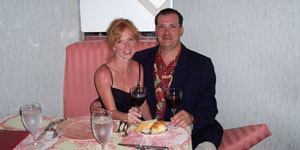 Hi, my name is Chris and I am the owner and wine maker. I am married to Carolyn and have two children - Sammi and Harrison. This is a family business and we are the first generation, though my dad will argue that it was in my blood that I got from my grandfather. My grandfather came over from Europe and settled in Syracuse NY back in the 1920's. To make some money, he modified a V-8 Oldsmobile and would run moonshine from Quebec down to Syracuse. So, I guess that's where I got my passion for alcohol from.
So, back in the mid 1990's I started to do a lot of traveling across the U.S. for my job and began drinking fine wines from some very nice restaurants. This peaked my interest and I quickly switched from beer over to wine. Since I was spending a lot of time on planes, I picked up some wine history and wine making books and started reading. This led me to try and make my first batch of wine in 1995. That one gallon jug quickly became 5 gallon carboys and then 10 gallon pails and before I knew it, I was in 55 gallon barrels. As the years went on, I kept trying different wines and everyone loved trying and drinking the nectars I made. So, I decided to take my hobby to the next level and went official. Today we are making over 25 different wines and producing over 2,000 gallons of wine a year. So, come on by the tasting room and give them a try. See ya there.